Mads Juel Andersen om kaffe, litteratur, stoisme, landslaget, Pelly, clean sheets, scoringen og jakten på den første Premier League-seieren!
Luton Town Supporters' Club of Scandinavia (LTSCS) har fått et eksklusivt intervju med Luton Towns danske midtstopper Mads Andersen. Sent ham en rekke spørsmål, mottatt skriftlige svar (på engelsk) og gjennomført en oppfølgingssamtale via telefon.
Inntrykket av Mads gjennom intervjuprosessen er at han er en genuin lagspiller som gir alt for klubben. En lagspiller med stor L.
«Mess Ennersen», som navnet hans uttales, har glidd godt inn i Kenilworth Road-miljøet. Svarene hans dokumenterer at han også har lært klubbens grunnverdier, samhold og styrker å kjenne på kort tid.
LTSCS takker Mick Harford for formidling av kontakt med Mads. Og selvsagt midtstopperen for hans imøtekommenhet.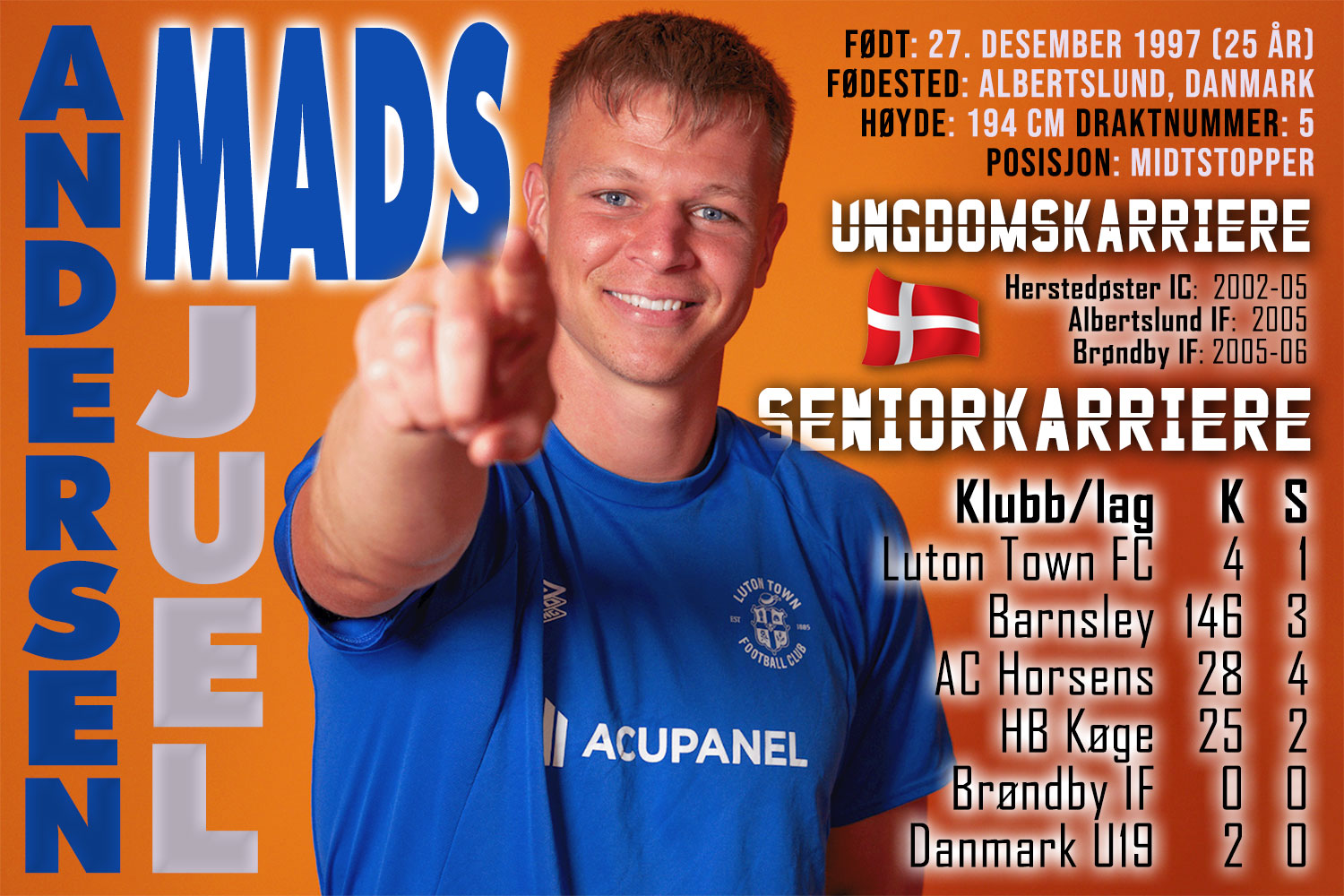 28 spørsmål til Mads + 28 svar fra Mads:
Q: How did the transfer from Barnsley to Luton Town evolve? (Interest, contact, meetings, offer, negotiations, etc)?
A: The interest came a few days after the League One Play Off Final. I was told the Gaffer of Luton Town wanted a phone call with me, so we we had that call and from there on it slowly kept evolving. Offer came in from Luton. I got told it was not the price Barnsley wanted, but they were confident the clubs would meet each other. Which they did.
Q: You have had a double promotion; from League One to Premier League! Describe the journey & your experience!
A: Crazy! I've played three good seasons in the Championship and then going down to League One hurt my ego a lot. But I came to learn so much that season and the most important lesson was that I had to let go of my ego, so I am so happy I managed to get through that experience. Then getting the chance to take two steps up: It all just made more sense for me. I am so grateful for the opportunity.
Q: Coming from Denmark with Super League experience to Barnsley; how was the transition? (country, club, culture, mentality, style of play, level, etc.)
A: Big transition. Wow! I did not realise how different the football would be; as well as living in another country. I had to go through the thoughest year of my career in football. Also in life.
I remember the first games I played. Thought «What the hell is going on???». Everybody are just sprinting around back and forth like in basketball. Utterly nuts!
Barnsley was good for me because they gave me the chance of developing my game and play a lot of minutes. I knew the playing style from Denmark which was aggressive and on the front foot.
During my first year living in Barnsley, I also realised out how grateful I am over coming from Denmark and Copenhagen. I think we Scandinavians are very lucky:-)
Q: You played with Carlton and Cauley in Barnsley. Has that that helped you settle? Was that a factor for you deciding to move? Other Luton Town players you knew from before/played with, etc?
A: What the club does well is recruiting good people, so in terms of settling in there has not been any problem. I felt very welcome from the first day. Of course it helps you having a few familiar faces and I did ask them what they thought about the club. Only positive things came with that. I would not say it was a factor for me deciding to go to Luton Town, but knowing a few players is definitely a big plus.
Q: Have you bonded with any team mates you already would describe as best mates?
A: I have bonded a lot with Chieo Ogbene. He's a very good guy. But overall; in general a good group of lads.
Q: How will you describe the interest for English Football in Denmark?
A: I think it's big. All football fans in Denmark are following the Premier League. In terms of the lower leagues I think there are some old traditional clubs who Danish people are supporting, but I am not sure they know how high the level actually is.
Q: Your verdict/analyse of the matches and season until now?
A: I believe we are still learning and trying to improve as fast as we can, but I think recent games have showed we can definitely be a problem for other clubs and hopefully with more games we can thrive in the League.
Q: You scored Luton Town's first ever Premier League goal at Kenilworth Road. How did that feel at the moment?
A: At the moment I felt like we had to go and get another goal! Put into perspective I think it is something I can be really proud of – which I am! Still; I've said this in interviews – I would rather have a clean sheet, because that's my job. So when the first clean sheet is acchieved, I hope I can be part of that.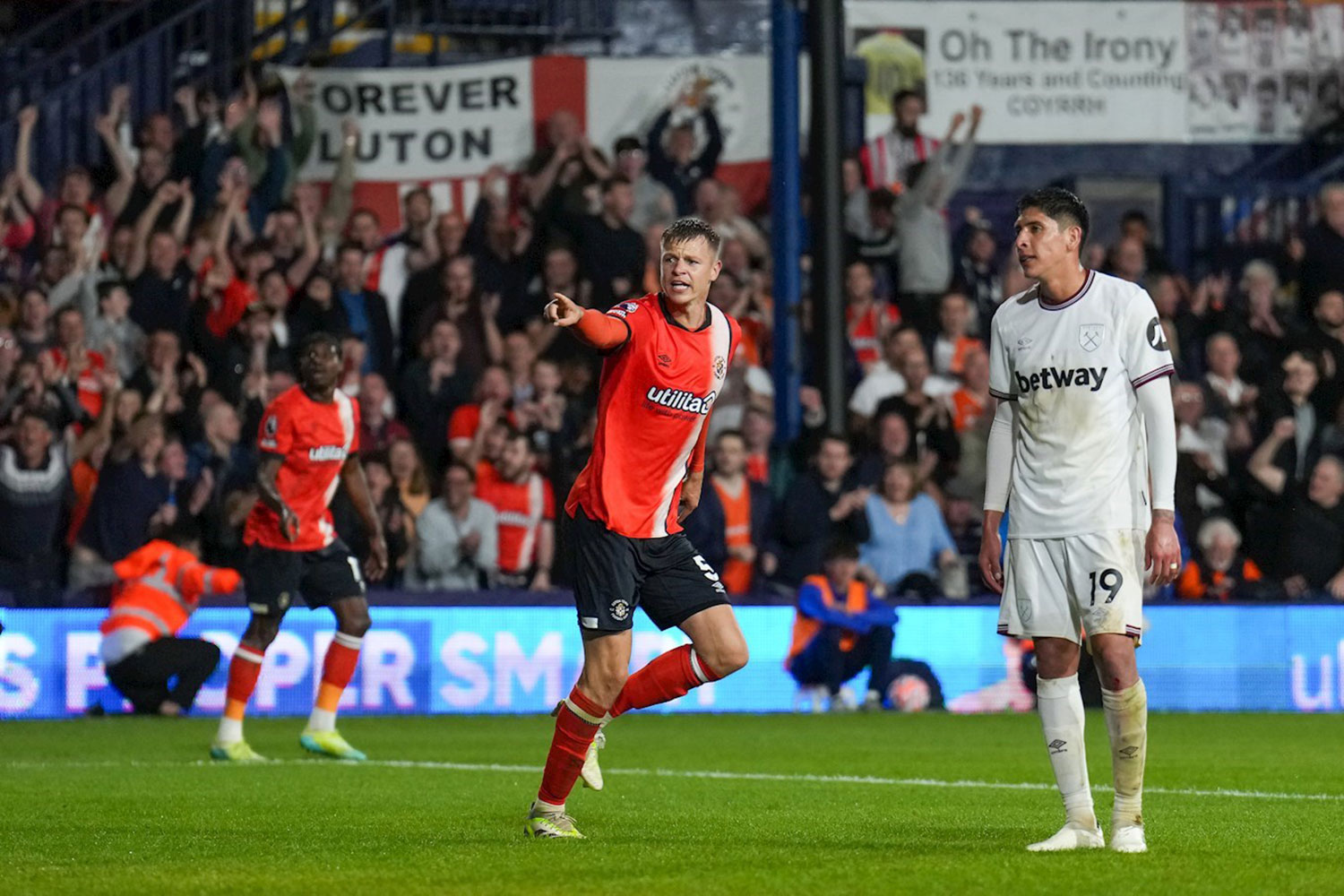 Q: What do you do on your spare time? Hobbies, interests, other sports you like to play/watch, TV series/shows, etc?
A: I like drinking coffee, it's «hyggeligt» as we say in Denmark. Other hobbies would be reading a little bit. I am just finishing a book about Kobe Bryant. Then I want to dig deeper into Stoicism, which I find very interesting. I also watch a lot of TV shows, etc., about real estate, and personal documentaries.
Q: You've played for Denmark U19. Now a Premier League player. National Team ambitions? Do you feel having a fair chance to be chosen for an upcoming squad? Has anyone from DBU been in touch with you?
A: My ambition is to play for my country. Of course! With that being said the competition in the centre back position is BIG. We are so gifted in that position in Denmark. I will do everything I can to help Luton Town and hopefully as a bonus I can get a call-up. I have not been in touch with anybody from DBU.
Q: You probably stayed at a hotel after moving to Luton. How's the situation now? Happy with how you live now? On your own or with anyone?
A: Yes; for two months trying to find the right thing, and finally I did in St. Albans. Nice two bed flat for me and my partner. We love St. Albans. Having London so close is great as well, so we are very happy.
Q: Describe an average working week for Luton Town FC! Training, matches, other tasks, commitments, etc?
A: Monday: Training from morning to mid-day – after coffee:-)
Tuesday: Hardest training session of the week. Then sleep!
Wednesday: We are off, so a balance between being active but not too active. Walking around all day, goind for some lunch, etc.
Thursday: Training again till mid-day. Probably also some grocery shopping:-)
Friday: Low load session, some cryo chamber (kryokabin) and off early.
Saturday: Match Day!
Sunday: Off trying to recover, food, water etc.
Q: You reached the Championship Play Off Final with Barnsley. Lost and got relegated the season after. Put that into perspective!
A: Yeah. Crazy.  Should not happen but it can because the League is so strong. Too many players wanted to leave after a good season. It did not happen and when you are playing on 80 % in the Championship you're deemed to loose.
Q: Football idols as a youth player? Domestic/International?
A: Ronaldinho. A bit weird, since I am a defender:-)
Q: Luton Town Football Club: Your impression of the leadership, management, players, staff, supporters, personalities, etc?
A: Thats a big question. So far I have been happy with my experiences here and would not make my judgments on that after a few month in the club. My impression is that all are working hard towards a common goal in a respectful and open culture. Trying to improve everywhere we can. The fans are outstanding. Having our back still after a 0-3 defeat. They're gonna help us a lot this season!
Q: Kenilworth Road Stadium?
Something special. The Stadium is tight, fans are almost on the pitch! The Kenny is going be our big advantage this season.
Q: The Brache?
A: They have made some very good changes the last eight months. It has all you can ask for: Great food, great gym, great training pitches.
Q: Pelly Ruddock Mpanzu?
A: What an achievement! I have heard some people saying he's completed football, and I totally agree! He also brings to much energy into the group. Some guy!
Q: Have you played with Norwegians and Swedes? Have friends/family in any of those countries? Played matches there? Visited on holiday?
A: I have played with a few: Simon Tibbling, Sivert Heltne Nielsen and Johan Larsson are a few of them. No family in those countries. I have not been there on holiday, so that's something still to achieve. I have played a few games in my youth, against Malmö FF.
Q: Luton Town Supporters' Club of Scandinavia/Scandinavian Hatters/luton.no?
A: Great community you have built!
Q: Herstedøster IC?
A: My club playing with friends when I was a small kid. Played with the guys older than me becuase I was very good:-)
Q: You took up athletics at young age, according to scources on the Internet, but quit early after because none of the others in the Kindergarten took part? Explain!
A: That's not the full truth. I actually only had one aim joining the athletics club: Wanted to learn how to do the same somersault as the Zambian Brøndby striker Christopher Katongo did when he scored! Unfortunately the sessions were very basic. We all had to follow a certain program. Learn all the basics first. I quickly realised it would take a while to acchieve my goal, so I just quit:-)
Q: Albertslund IF?
A: Short visit. Wanted something more. Remember a 0-12 loss and I thought no chance I am doing that again, so I moved to the big club Brøndby IF!
Q: Brøndby IF?
A: Started with the second team and fought my self up to the first team when I was 12. Was there from 9-10 to 20 years of age-ish, so that is the club I am connected to in Denmark.
Q: HB Køge?
A: One year loan spell. Played a lot of games. Got to mature a little in terms of physicality and decision makings.
Q: AC Horsens?
A: Got to play in the best League in Denmark, which took me to Barnsley ahead of the 2019/20 season.
Q: Do you have a nickname?
A: Hmmm… actually no. I can't recall any been given. At Barnsley I was the captain, so they called me Skip. «Locks» is our skipper now.
Q: Wolverhampton Wanderers?
A: My first thought is to win the match! We have prepared for it every day since the previous match. Home at The Kenny we will get the best support, and as a defender I always aim towards a clean sheet. I will be ready if chosen.